Compare our uptime and speed with others
Source: Hyperspin.com May 2017
Rank
Company Name
Verified Uptime
Interval (min)
Duration (day)
1
DivisionX Inc.
99.999%
3
3063
Don't Lose Customers, Ranking, and Conversions!
Our customers enjoy typically 81% to 1052% more visitors compared with when they were hosted elsewhere. Low uptime means you are losing customers and ranking lower. Worse still, you don't even know it is happening! Host with us to get higher ranking, and more visitors converted to customers.
Standard Features
You won't find our combination of features anywhere else even if you choose their most expensive package.
* When billed yearly depending on package
Webmasters on call 24x7x365
Ultra fast Solid State Drives
Page speed optimization
99.999% uptime SLA
CageFS client shield
Fail2ban attack blocking
CloudFlare CDN
30 day money back guarantee
Free domain*
Free SSL Certificate*
Instant activation
Daily Backups
24x7x365 US/UK support
cPanel control panel
Multi PHP version support
PHP, Perl, Python, Ruby
Unlimited web space
Unlimited traffic
Unlimited visitors
Unlimited email accounts
Unlimited forwarders
Unlimited auto-responders
Unlimited MySQL databases
Unlimited FTP accounts
Unlimited sub-domains
Softaculous 400+ apps one-click installer
Latest MySQL database
Latest CloudLinux
Latest Apache webserver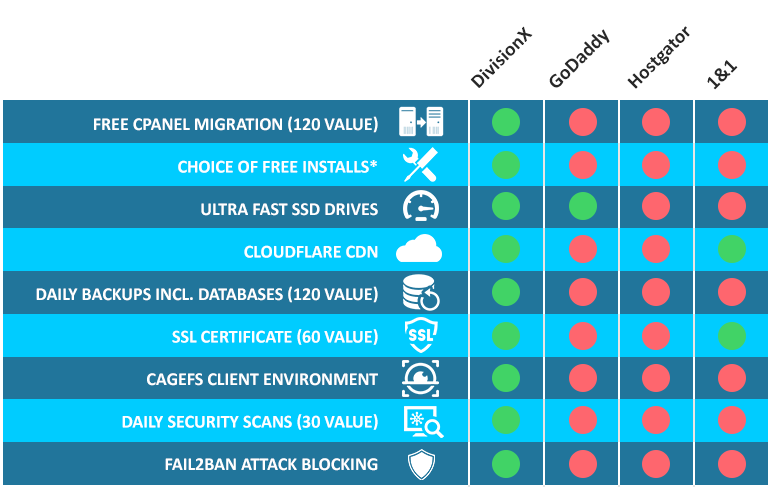 Convert More Visitors to Customers
Converting visitors to customers is hard. The speed and security of your website play a very important role. We include a combination of speed and security features you will not find anywhere else.
* WordPress, WooCommerce, WHMCS, Magento, Prestashop

The Business Booster™
Done-for-you Hosted WordPress and WooCommerce means say bye bye to the learning-curve and hello to focusing on your real business. You get it all in one comprehensive, managed package. We'll get your website working for you instead of the other way around.
Managed monthly
87 Premium themes
All-in-one SEO
Mailing-list integration
Social media tools
Form builder lite
Visual editor
WordPress Jetpack
Expert support
Productivity tools
Security hardening
Speed optimizations
A/B testing
Regular updates
Daily Backups
and more…
Protected login
Core updates
Plugin updates
Brute-force blocking
Comment Spam blocking
User enumeration blocking
And more…
Don't Be The Low-Hanging Fruit!
Hackers target WordPress sites that are not managed. To hackers these are the low-hanging fruit. We provide CDN, latest PHP and MySQL, WordPress security hardening, and speed optimizations as standard!
Frequently Asked Questions
All the web hosts I've been with are the same. What makes you special?
Have you come across a big corporation whose goal was not making more money for their share holders?
Neither have we. The big corporations are all about profit. They want to sell you the least expensive thing for them at the highest price you'll pay.
Then when you've signed up and you realize you need more, they upsell you.
Upsell you over and over. Constantly.
If you think all web hosts are the same, we bet you any money that is what you have experienced.
You are only worth to them the marketing price to get you to sign up.
We are the opposite. We want to provide you with services of real quality and value because we want your business for the long term.
That is why we value each and every one of our customers much more than any monthly payment.
Here are our promises to you:
We will not try to upsell you.
If you report a problem with our services we won't stop looking into it until its fixed.
If your web hosting package is not quite right. We'll create a new custom one especially for you.
How can your service be better than what I get from the big corporations?
What they sell to you, is not what they use for themselves.
What we sell to you, is what we use for ourselves.
What's more, we have the best people, and we don't have any red tape, so we are incredibly agile.
We regularly invest time and money into upgrades because what is good for us is good for you and vice versa.
The service we provide to you is state-of-the-art, and even better than the big hosting companies use for their own websites.
Isn't it a safer bet to go with a large corporation?
We call this the "What if you got run over by a bus?" question.
We have a no lock-in policy. All the non-proprietary software we provide is either open source or can be cheaply purchased or leased. You can move your website at anytime. Domain transfers usually occur within hours.
If you have moved web hosts you'll know our competitors will do everything to try and lock you in.
Also, and just as importantly, we typically have at least 2 years of reserve funds.
That is how long we could keep going even if you were our only customer. A typical big corporation has 6 months of reserve funds.
That is one of the reasons why we've survived two recessions since our founding in 1998.
Remember Enron? Those are two reasons why we are actually a safer bet than a large corporation.
Established 1998
State-of-the-art servers built by highly experienced webmasters to fight the mediocrity of the bulk web hosting corporations.